The Uganda government has signaled a new impetus in the mining sector with multiple reforms and political weight over the next five years yielded to transform, its previously dormant mining sector. The government plans to scale up its work in the Mining sector. As part of improving its geological data, the government recently announced commencement of aerial surveillance of Karamoja, which is one of the areas highly believed to be mineral rich. This will improve the quality of real time Mineral and geological data.
The Ministry plans to table the new Mining Bill in Parliament soon. Civil society organisations such as the Natural Resources Governance Institute (NRGI) have worked with the Ministry experts on this, and will be monitoring the developments, debate, and the outcome from this bill.
Civil Society and expert advice to government has been that Uganda needs to have a legislative environment which attracts large investments into its mining sector but also ensures citizens benefit from extractive resources. NRGI will be engaging with new Parliament, by providing some capacity building support and making technical presentations on the extractive sector governance during Uganda's new journey.
On the12th of May, President Yoweri Museveni was sworn into office after a tenacious election period. Despite the violence and contestation, President Museveni was declared winner for a sixth term. Since 2006, the President has constantly anchored his economic development cards on the Country's oil wealth as a conduit to pursue his long-term development agenda and pathway to a middle-income status. The tilt towards developing the country's mining sector expands this vision further.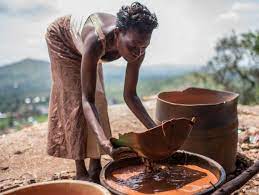 Under a new mining policy passed in 2018 Uganda proposed to maximse gains from its mining sector by automatically making value addition mandatory and owning shares in every mining company granted a mining lease. This policy was a major shift from the previous policy framework where the mining companies owned 100% of ownership with government being relegated to a  spectator.
The old policy regime was characterized by abuse, land conflicts, speculation and nuisance business practices which denied government maximum economic benefits. According to the Uganda Chamber of Mines and Petroleum (UCMP) there are over 800 mineral licenses, with over half held small companies and speculators. Uganda's Mineral rich areas such as Karamoja are awash with prospective mineral license holders and artisanal miners. The current policy framework was not backed by commensurate enabling law.
With a comfortable majority in parliament, the President has lee way to use the advantage of numbers to push through policies that favour his vision. While  changes among the ministers are expected,  there is no expected much change regarding technical staff in the key government ministries, agencies, and departments. This may be of advantage as these technocrats can now focus on achieving this new ambition. Can Uganda pull it off?  As extractive sector stakeholders will be following the developments with keenest and wishing Uganda success.